Storage
Whether you need to store a few seasonal items, half of your belongings, or all of your belongings, short term or long, we have the storage space to accommodate. We offer secure, climate controlled storage, in which we leave your items padded.

Packing
Our employees are trained to professionally pack anything and everything in your residence. We offer full service packing, where you don't have to pack a thing, or a la carte packing, where we only pack your most fragile items such as china, pictures, lamps, etc.

Crating
We can customize any crate for you. Crating is required for some items such as large glass tops, marble tops, chandeliers, statues, etc.

Pool Tables
We are certified to move pool tables, including disassembly and reassembly, as well as crating the slate.

Pianos
Whether moving a spinet, upright, baby grand, or grand piano, we are certified to handle it all. Whether its 1st floor or 2nd floor, carpet or hardwood floors, we are prepared to get the job done right.

Unpacking
Unpacking includes removing packed items from the box, unwrapping them from the paper, and placing them on a counter, desk, dresser, shelf, bed, etc. This service includes removal of the boxes and paper. We do not organize or place items in cabinets.

Automobiles
We do transport automobiles, including motorcycles. They are securely loaded inside of our trailers, along with the rest of your household goods.

Misc
Have a difficult piece that needs moving? We have moved gondolas, hot tubs, swing sets, custom aquariums, weight equipment, playgrounds, statues, fountains, boats, trampolines, basketball hoops, etc. If it needs moving, we will find a way to move it.

VIP Service
Golden Movers has experience, and takes much Pride in providing VIP Service moves. We have moved many a millionaires, ranging from self-made, to business owners, business executives, 4 Star Generals, Politicians, and Professional Athletes. This service includes every service we offer that is needed for your move, from start to finish! You don't even have to be present! Just give us some instruction to start, or have an assistant there, and we will pack everything, crate what is needed, disassemble and fully pad all of your belongings, move it into your new house, fully unpack all the boxes and place the items back in the rooms you desire, while you are at work, on vacation, running errands, or just relaxing.

Office Moves
Golden Movers offers a lot of experience in moving offices, as well as businesses, storefronts, churches, warehouses, private schools, and more! Our staff will help guide you through the process from start to finish, and develop a game plan that works best for you. Our office moves include the following services:
Moving Boxes
We offer both stackable rolling crates, as well as office tote boxes that can be provided in advance for your employees to pack their belongings in.
Labeling
We offer color coded moving labels that can be placed on every box, furniture or electronic. Our staff will also assist in developing a proper labeling system that eliminates confusion and misplaced items at destination.
Cubicles
We do offer and have experience with disassembly and reassembly of office cubicles, whether they are Steelcase, Herman Miller or another brand. Our staff can also assist in designing the best floor plan that meets your needs at your new location.
Electronics
It is standard service with all office moves for us to move your computers, printers, or other electronics. They are carefully wrapped, transported, and delivered to the pre-assigned office, cubicle or desk.
File Storage
From labeling, moving files, disassembly and moving of racking or shelving, and reassembly, we relocate file rooms, with complete organization from A to Z.
Racking
Moving your warehouse? We can help stack and move skids, disassemble and reassemble racking and organize your new space according to your needs.

International Moves
While we do not have International authority, we do have a few companies we work with that handle all of the moving logistics and permitting you will need for your move overseas. We can however professionally pack all of your belongings, properly pad and prep all of your furniture, and load your shipment onto an international container, while safely securing it for the journey. We use paper pads, and corrugated cardboard padding as well as shrink wrap to protect your goods in transit, properly labeling everything for ease at delivery.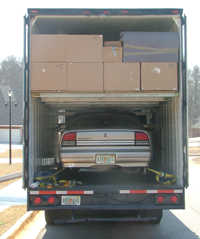 Standard Service
Golden Movers specializes in household goods, office moves, and warehouse moves. Whether moving across the street or across the country, we have the resources to get your there. Moving internationally? We can pack, prep and load your goods, but do not have international authority. However, we can set you up with a preferred company that does.
We offer a variety of services for your moving needs. These services vary from our standard service up to our VIP service, or anywhere in between. Services can be packaged together or offered a la carte.
Our standard service exceeds those of our competitors! See what others are saying! Testimonials